Microtomy and Paraffin Section Preparation
点击次数:3822 发布日期:2018-6-20  来源:本站 仅供参考,谢绝转载,否则责任自负
Utilize Safety Features Properly
You must be familiar with the safety features of the microtome you are using and observe some basic rules when cutting sections.
Microtome knives and disposable blades are extremely sharp and can inflict serious injuries unless appropriate care is taken when working with them. Accidents occur when a microtomist is distracted and not concentrating fully.
Use forceps or brush instead of your fingers to pick up sections or wax fragments from blade or block face. • Leica rotary microtomes are equipped with a safety guard (knife guard or finger guard), a handwheel lock and a handwheel brake to enable safe operation.
The safety guard can be positioned to cover the whole length of the cutting edge.
The handwheel lock will lock the object head at the top of the cutting stroke and must be used when changing blocks.
The guard must be in place and the handwheel lock engaged when a block is being placed into or removed from the cassette clamp, or when any manipulation of the block is being undertaken while the knife or blade is in place. The guard must also be used when the microtome is left unattended.
The handwheel brake will lock the microtome when the handle is in any position and is used when realigning a block face or adjusting the coarse feed.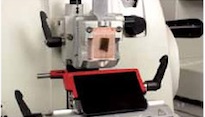 The red safety guard on the Leica RM2235 Microtome has been flipped up into place in this illustration. It completely covers the cutting edge of the blade.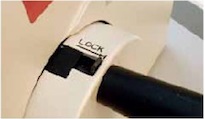 The handwheel lock is shown here with the handwheel in the 12 o'clock position and the lock engaged. This lock will only engage in this position at the top of the cutting stroke.